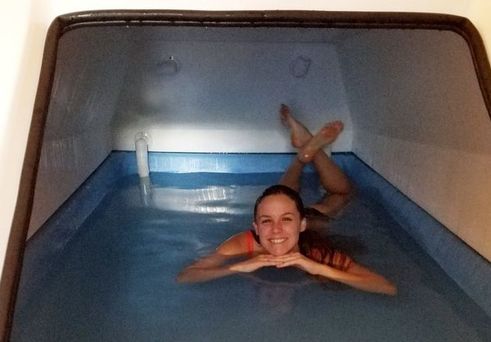 What is floating?
Sensory deprivation: Picture a room where you undress, rinse off, and slip into a tank, a tank where nothing is going on but you. You're laying in a tub filled with 10 inches of water and approximately 800 lbs of Epsom salt. If you have any open cuts you either would cover them with water proof band aids or use the Vaseline supplied. The salt water does not hurt, in fact it feels like nothing. You have no idea as to where your body ends and the water begins because the water is the same temperature of your skin. The salt has dissolved into the water and so have you. In this tank your senses are deprived and you are able to explore the cognitive, spiritual, and emotional parts of yourself that you've never quite had the chance or felt safe enough to be alone with. It is a place where gravity does not exist. Ninety percent of your central nervous system's activity is used up by gravity; imagine what your brain could do with all of that unburdened energy. Even in your sleep your body is fighting temperature, gravity, light, and sound. In the tank you are in control, you choose what happens, it is a place for you to dream, create, visualize, and become the ultimate thinker that you already are. The sky is literally the limit. If you have fears that you want to face, face them, questions that need answers, answer them, you are in control. Some people spend a life time trying to produce theta waves and getting to a specific level of meditation. Floating forces you into producing those theta waves. It can be used to deal with stress, become a better student, create ideas, solve problems, deal with pain, anxiety, mental illness, pain associated with Fibromyalgia. It is a place for athletes to rest and recover. It helps reduce cortisol levels which are associated with stress and weight gain. You can detoxify within the tank, reduce migraines, relieve inflammation in joints, strengthen your immune system, and improve skin tone. Everyone can benefit from floating. The benefits are amazing and its all non invasive. It is empowering to be able to go somewhere to get in touch with your inner self. Floating gives you the power to resolve your problems. Why not take advantage of that?
Friendly Reminders
What to Bring:
*Contact lenses, case, & solution (if needed).
*We supply towels, but bring your own if you would like!

*Make sure to eat something light before your float.
*Make sure to roll up your windows at Floatwise, this is Pupukea.
*Try not to shave or wax before your float, and stay away from caffeine if possible.
*Consult with your doctor regarding any serious medical conditions.
*Make sure it has been 1-2 weeks since you have died your hair and one month after a new tattoo. NO TEMPORARY HAIR DYE.

If you are a new floater please complete our new floater form: http://bit.ly/2oozPHQ
​
Put your phone on vibrate and step into you.

We can't wait to get you floating!
---
Pricing
Single 90 min float: $89
Single 60 min float: $79
Intro 3 float package: $149
5 float package: $259
10 float package: $499
Membership: $49
Memberships are $49/month and include one float and any extra float for the month is $39.